A preview of the New Jersey Shark Tournament Schedule for 2017
South Jersey Shark Tournament
The 37th annual South Jersey Shark Tournament will be held June 7-10, 2017. Hosted by the South Jersey Marina on Schellenger's Landing, the entry fee is $600 per boat. Crews can choose any two of the three days to participate. The maximum amount of lines per boat is five, but there is no limit for members on board. Circle hooks
are a requirement for the tournament as well. South Jersey Tournaments stresses conservation, and a circle hook tends to hook a shark in the mouth. This is a safer alternative to a j-hook, which can cause more damage to the shark by hooking it in the stomach. All species that are caught must comply with federal rules and regulations, but there is a minimum weight of 200 pounds for the contest.
The options for prizes range in forms of calcutta's and high cash payouts. Last year's payout for the winning Mako was over $176,000. Prizes are for both Mako and Blue Sharks.
http://njsaltfish.com/index.php/nj-tournaments/eventdetail/28/south-jersey-shark-tournament-2017.html
http://www.southjerseytournaments.com/shark.html
Warriors for Warriors
The Warriors for Warriors 4th Annual Charity Shark Fishing Tournament will take place June 8-10, 2017. The entry fee is $500, but if participants register by May 14, 2017 they will receive a $50 discount and be entered in a drawing for a chance to win an Avet Reel
. This tournament features US Navy Seals and others raising money for veterans with combat experience. The tournament supports Operation Restored Warrior, a foundation focused on healing veterans and preventing veteran suicide. 50% of the entrance fee will be donated to Operation Restored Warrior.
A Captains Meeting will take place on June 8th at River Rock Restaurant and Marina Bar in Brick, New Jersey from 5-7 PM, and at least one member of the crew must attend. Fishing begins immediately after the meeting. Participants may fish multiple days, all three days, or just overnight. Only Mako sharks will qualify for first and second place prizes, but there are other prizes for Thresher and Blue Sharks. The qualifying weight for Mako is 150 lbs, and 200 lbs for Thresher and Blue Sharks. Sharks must be caught on rod and reel, but harpoons are allowed to secure catches once on the line. The weigh-in will take place on June 10th at 6 PM at Captain Bill's Landing and Holiday Harbor Marina.
If a crew withdraws from the tournament due to inclement weather, they may be refunded $225. The remaining balance will still be donated to the aforementioned cause.
http://njsaltfish.com/index.php/nj-tournaments/eventdetail/26/warriors-for-warriors-2017.html
http://warriorstournament.com/
Brett Taylor Bailey Mako Rodeo
The Brett Taylor Bailey Mako Rodeo will be hosted on June 16, 2017 at Hoffman's Marina West in Brielle, New Jersey. This will mark the 16th installation of the tournament, which commemorates the life of Brett Bailey, an avid fisherman who lost his life on September 11, 2001 in the terrorist attacks. There is a $600 entrance fee. There are a myriad of prizes, including 1st, 2nd, and 3rd place Mako and Thresher, multiple calcuttas, and a winner-take-all largest Mako. There is also a new competition involving rodeo points, where captains are awarded 10 points for any Mako, Tiger, Great White, Hammerhead or Porbeagle released, 5 points for any Thresher released, and 2 points for any Blue, Brown or any other species released. More information will be available at the Captains Meeting on Friday, June 16th at Hoffman's Marina West in Brielle, New Jersey. The Check out and weigh in will also take place at that location. A maximum of six fisherman per boat is allowed, as well as a maximum of six lines per boat. Last year's winner was a 430 lb. Mako shark by Chris Minetta that paid out $19, 400. Over $30,000 total was paid out last year, while also donating to local charities including Team Red, White and Blue, whose mission is to enrich the lives of America's veterans
http://njsaltfish.com/index.php/nj-tournaments/eventdetail/27/brett-taylor-bailey-mako-rodeo-2017.html
Mako Mania
The Greater Point Pleasant Charter Boat Association and Ocean Reef Foundation of New Jersey are hosting the 32nd Mako Mania tournament on Saturday, June 24 and Sunday, June 25. The entrance fee is $500, but drops to $475 if registered before May 15th. This fee covers one day of fishing, and the captain may choose which day his crew will fish. If a crew would like to fish both days, the entrance fee is doubled. One member of the crew is required to attend the Captain's Meeting on June 10th at 6:30 PM. Each boat is required to check out between 5:30 and 6:30 the morning they intend to fish, and then return via the Manasquan Inlet and weigh-in at Crystal Point Marina to qualify. A maximum of six anglers and lines are allowed per boat. The tournament is Mako only, with a 66" minimum. Rods and reels only. There are up to $250,000 in prizes based on a 300 boat registration. Last years 1st place winner reeled in a 301 lb. Mako Shark.
http://njsaltfish.com/index.php/nj-tournaments/eventdetail/32/mako-mania-2017.html
http://makomanianj.com/default.htm
Mako "Catch It" Fever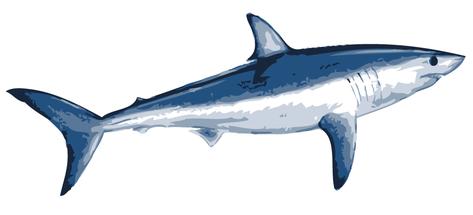 The 2017 Mako "Catch It" Fever Tournament will be the 39th installment of the tournament. The tournament will take place on Saturday, June 24th and Sunday June 25th. Participants can register for the tournament by paying an entry fee of $475.00 per boat per day. However, if they register online prior to May 24th, participants will receive a discount of $25.00. The maximum number of anglers per boat is six, one of which must attend the Captains Meeting on June 22, 2017 at Manasquan River Club at 6:30 PM All boats must check out between 5:30 AM and 7:00 AM the morning they intend to fish at the Manasquan Inlet, Seaport Marina and Bernegat Light. Weigh in takes place at Captain Bill's Landing between 4 PM and 7 PM. Each boat is eligible to win only one prize, and prizes will be awarded to the six heaviest Makos. This tournament will only allow Mako Sharks with no exceptions. All Makos must be weighed in their natural state, meaning no jaws wired shut. The minimum size is 66 inches fork length, and all other catches must be tagged and released. Only six lines may be cast by each boat, with a 130 pound class minimum; no harpooning. There are over $250,000 in prizes if all 300 spots are filled. If the shark breaks the New Jersey state record, the contestant will win a 2017 Chevy Silverado Truck.
http://njsaltfish.com/index.php/nj-tournaments/eventdetail/24/jersey-coast-shark-anglers-mako-fever.html
https://www.jcsa.org/purchase-tournaments.html